My favorite kind of classic cookie is an oatmeal chocolate chip cookie. But since I have tons of cranberries left over from making Cranberry Pecan Muffins, I decided to mix in some of those beautiful, tart berries. I received a ton of compliments on these from people at my workplace and my husband's.
Cranberry Chocolate Chip Oatmeal Cookies
adapted from bakingsheet
2 sticks of butter, softened
1 C. sugar
1 C. brown sugar
2 eggs
2 Tbsp. milk
2 tsp. vanilla extract
2 C.ups all-purpose flour
1 tsp. baking soda
1 tsp. baking powder
1 tsp. salt
2 1/2 C. quick oats
1 12 oz. package of chocolate chips
1 1/2 C. cranberries, roughly chopped (I only used 1 cup, but I wish I would have used 1 1/2, so that's what I'm going to tell you to use)
Huh. I haven't seen my dining table look this organized in a long time.

Preheat your oven to 350 degrees. In a large bowl, cream together butter and sugars (you could use a stand mixer, but as I've mentioned before, I try not to use mine unless absolutely necessary).
This stuff tastes awesome all by itself.

Beat one egg in at a time until mixed.
Getting there.

Add milk and vanilla, and mix until combined.
It looks a little curdled at this point. Don't let that bother you.

In a separate, medium bowl, whisk or sift flour, baking soda, baking powder, and salt.
I love whisks.

Add flour mixture to butter and sugar mixture in two batches until combined.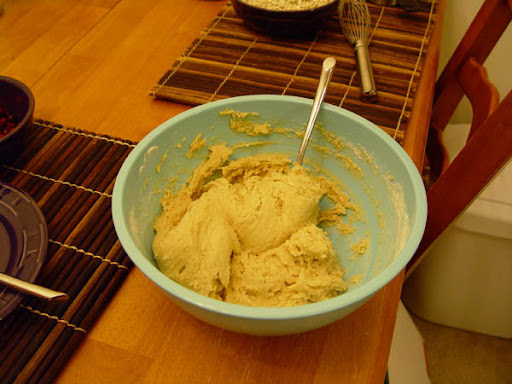 That looks a little better.

Gently mix in the chocolate chips and cranberries.
Why yes, yes, I could just dig into this bowl as is.

It might look even tastier up-close.

Using a cookie scoop or a spoon, drop cookie dough onto baking sheets. Bake for 10-12 minutes (or longer if you like your cookies crispy).
Pretty little cookies, all in a row.

Rest baking sheets on wire racks for a few minutes before using a spatula to transfer cookies to wire racks to cool.
Melty chocolate. :sigh: